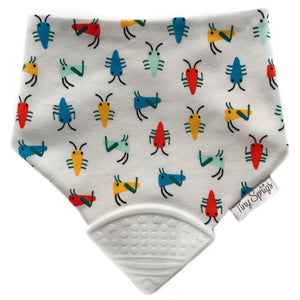 White Bugs Organic Teething Drool Bib
The perfect accessory for your Tiny Sprig!
Tiny Sprigs Organic Teething Drool Bibs are handmade in London, Ontario (Canada) from super soft & absorbent 100% organic cotton knit. These drool bibs will wash well & stay looking just as adorable as they did the day they were purchased!

Silicone ends are made from 100% food grade silicone which is non-toxic, odourless & free of BPA, lead, PVC, mercury & phthalates.

Pair this gorgeous drool bib with one of our beanies for an adorable look.

Sizing: This Drool Bib has two snaps to help you get the perfect fit for both babies & toddlers.
Care: Machine wash in cold water on delicate/gentle setting. Do not bleach. Lay flat to dry.